Architect
Written and Directed by Dan Shanahan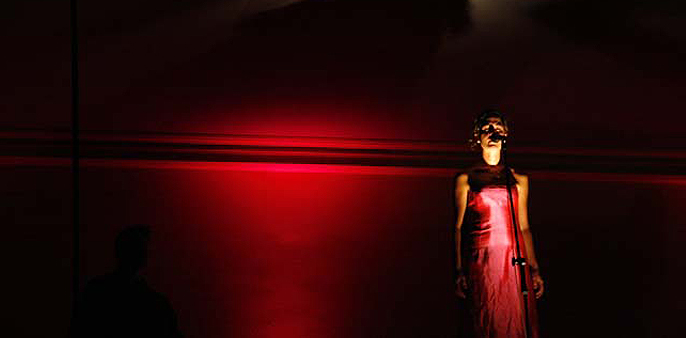 In collaboration with Eric Kanner and Kyle Price. Part of Torn Space Theater's Original Performance Series
Reviews
Ted Hadley, The Buffalo News
Torn Space Theater producer and playwright Dan Shanahan is on the move again. Shanahan's offbeat acting company usually calls The Adam Mickiewicz Dramatic Circle home but some months back mounted an acclaimed play at an unlikely venue, the Central Terminal. The Mickiewicz, Buffalo's oldest theater, and the revered Terminal, are priceless local shrines.
Now, another historic gem is host to the most recent Torn Space original play, the intensely strange "Architect." The Dnipro Ukrainian Building, home to Buffalo's Ukrainian community for more than 80 years, has a wondrous second-story ballroom, walls and a curved ceiling alive with murals and portraits of Ukrainian literary figures, politicos and patron saints, a proscenium stage bordered by fascinating colorful art. It's been transformed and actually enhanced by modern latex, piped and tented set by Eric Kanner and Tim Sivertsen.
The play itself, written and directed by Shanahan in collaboration with Kyle Price, Kanner and Melissa Meola, is nearly wordless and plotless, a visual and aural assault on the senses, an hour or so of energy transferred and a possibly abortive attempt to create a "parallel universe" for a troubled man named Harold.
We meet Harold, played by Brian Butera, and others in a dreamlike state, an early parade of sleepwalkers gliding to and from areas of light and dark, ritualistic strolls overseen by two "activators" and a woman, Muriel- Harold's wife? Mother? - A keeper of memories it seems, at an unusual, time-keeping loom, and a girl in a suspended cocoon who doesn't emerge for reasons open to discussion. Two "rooms" are visible: a young girl in one, a baby in another. A pedestal periodically showcases an apparently gestating egg. Harold conflicted or in flux, tentatively visits these sites.
As he walks, sounds cascade: gongs, industrial noises, pounding surf, unidentifiable cacophony. Harold seems to want to change his past, deny it, erase it, at the very least tweak his life circumstances. If he can't, say the playwrights, he'll "go towards his end." "Architect" seems to point Harold in that direction.
Other characters in this cast of 10 join the journey: a man and woman in a forest, doubling as Crumbling Façade and March of Industry. Singers- a childhood carousel melody, an upbeat old standard, "Linger Awhile" – who are also called Fading Nostalgia. There is much to sort out here.
There are as many interpretations for "Architect" as there are hues on the Dnipro walls. All of them could be right. Some voice-overs are garbled; this doesn't help the audience's need for guidance. In the end, Dan Shanahan and company have once again given playgoers much to think about and take home. With each Torn Space production, sound and imagery play larger roles; the troupe has amazing technicians, with original music here by Kyle Price and Gregg Gregg, costumes and lighting by the mulit-talented Meola.
"Architect, " it seems to me, is one of those rare plays that call out for an immediate second look.
3 1/2 out of 4 stars
------------
Willy Rogue Donaldson, Night-Life Magazine
Up the stairs past the egg sculpture into the dark ballroom of the Ukrainian Cultural Center-Dnipro. Find your seat for your ride into a different reality, where deterioration and hope struggle in an intense expressionistic universe. A brief program sets out the parameters of an imagined world, wherein a man attempts to change and reset his universe, using mysterious rituals to bring forth an Egg containing potential.
Written and directed by Dan Shanahan in collaboration with Kyle Price, Eric Kanner, and Melissa Meola, this conception unfolds slowly and expands both in space and complexity.
The large set (Eric Kanner and Tim Sivertsen) utilizes in full the grand room, including the colorful decorations of the hall. Various constructions form discrete structures for each actor. These constructions are pipe and plank, fabric and twine, one is an egg-shaped cocoon, where a woman continually pulls thread from the womb to sew the seam closed. Two different birthing bedrooms are shown, one Victorian, on futuristic white and clinical. The characters in these are played by Brenna Shores, Becky Globus, Kara Mckenny, and Isabel Star Trump. In a third locus, Muriel (Melissa Meola) sits at a long loom, weaving and talking to us.
Music grinds like machinery, plucks, veers, sings and samples, adds tension and movement in heartbeat rhythms (Kyle Price), voices and some surfaces are miked. That long fingernail seems to be very important to the process, it scratches the wall and it seems to peck out the future. Some of the ambient sound is picked up from the live action, altered and fed back into the soundscape (Gregg Gregg).
The Lighting by Melissa Meola is harsh for the modern world, warm and dim for the Victorian world. Later, the balcony opens up with beautiful red lighting and formally dressed singers with Lawrence Welk sincerity (Rachel Griffo and Michael Zachowicz). They seem to sing to two other characters who are revealed on the stage. March of Industry (James Wild) and Crumbling Façade (stunning Detchen Dolkar), who sit at a table in the backwoods, apparently partied out.
The architect Harold (Brian Butera) is dressed in a suit, barefooted! He goes thru various rituals in the present to bring the egg into being, although without the program notes, you wouldn't know he was the casual character. He moves in repetitions, looks into distances, rocks, sleeps, and occasionally plucks on a twine line, which cause events to unfold.
This description doesn't give the zeitgeist of the piece; the narrative may be the least important part. How all the various elements of theater come together around these mysteries in different time frames is what develops the sense of struggling to create, to produce the conditions for change, to re-establish hope in a wound down world.
Director Dan Shanahan assembles sexy and talented young artists and communicates his vision to them, with them, and arcs it to the audience. This piece is the third in a trilogy, lighter, subtler, more hopeful than the first two. But it also could have a sequel.
It is what you make of it, but even if it makes no sense to you, you won't be bored or feel cheated. This is exciting, imaginative theater.Up the stairs past the egg sculpture into the dark ballroom of the Ukrainian Cultural Center-Dnipro.